Filter Tips 10ul for Pipettes
ABD® 10ul filter pipette tips is made from virgin PP materials, equipped with aerosol barrier filters to avoid sample contamination.
Our molecular bioproducts tips are compatible with all top pipette brands, and is capable of duties on both single and multiple pipettes. Especially useful when lab managers are looking for filter tips for pcr during Covid-19 testing.
Features
Fitting Eppendorf, Gilson, Watson, CAPP, Finnpipette, Rainin, Biohit, Nichiryo, A&D, Oxford Micropipettes.
Fitting multi-channel and single-channel pipettes.
Premium tips material, 100% virgin PP material. Medical grade, high clarity. Autoclavable, withstand 121℃.
High precision mold, low retention even for 1 ul pipette tips. Guarantee liquid volume even under the filters.
Ideal usage as PCR pipette tips in Covid-19 and general scientific research.
Eco-friendly compact packing to save shipping costs and lab storage space.
Technical Specifications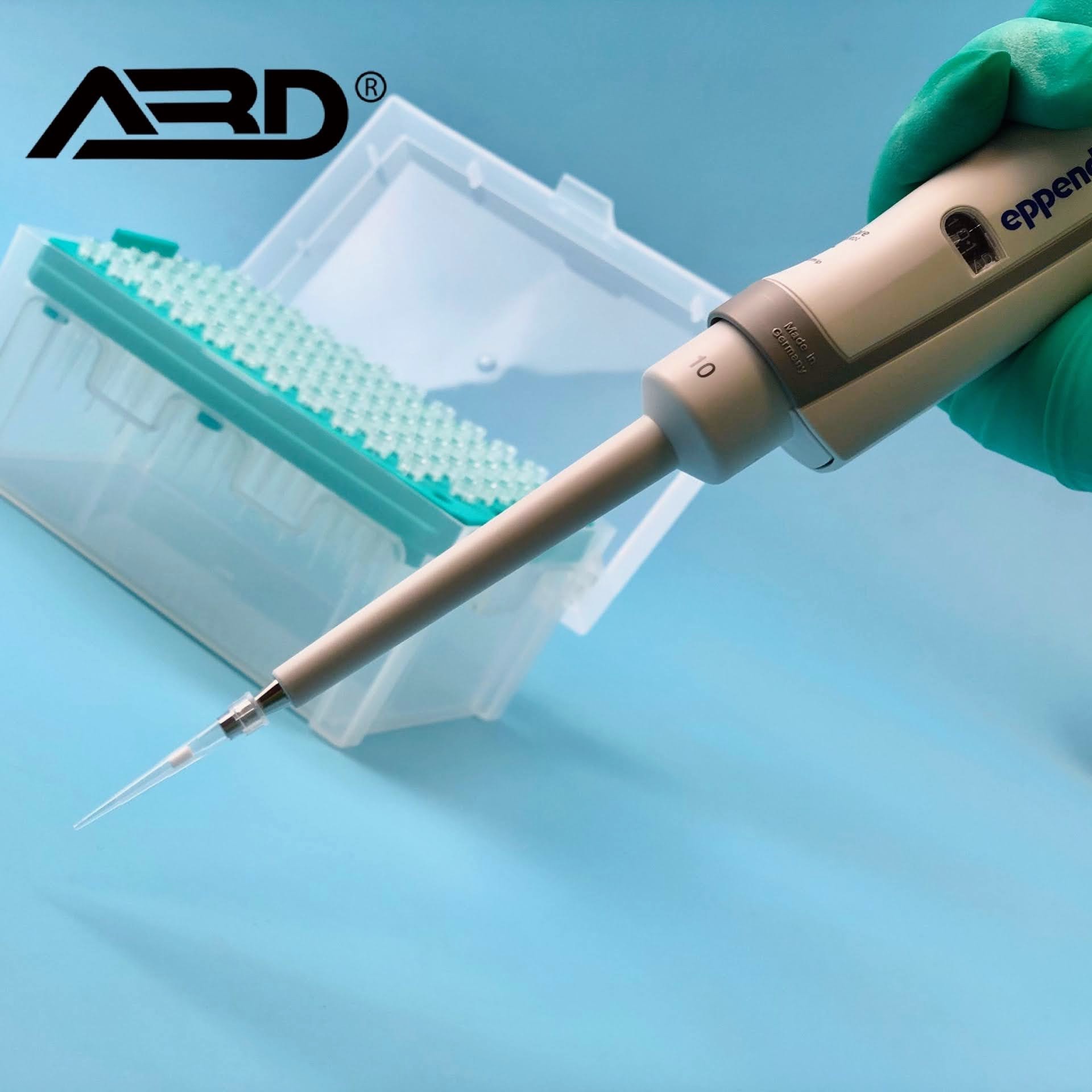 | | |
| --- | --- |
| Catalog Code: | ABD-FT-10-96L |
| Type: | Aerosol Barrier Tips |
| Volume: | 10 μL |
| Size: | 5 * 32 mm, Standard Short |
| Graduated: | Yes, with demarcation line |
| Brand: | ABD® |
| Origin: | China |
Frequently Asked Questions
Are 10 ul filter tips sterile?
Yes, we offer sterile pipette tips by EtO (Ethylene Oxide) processing before dispatch.
Are filter tips universal fitting?
Yes, ABD® universal pipette tips are designed to fit a widest range of single channel, multi-channel pipette brands.
Are filter tips dnase rnase free?
Yes, we make production in a clean environment with automated systems, and avoid human DNase exposure.
And we can provide dnase rnase certificate per lot.
What's the purpose of tip with filter?
Filter function is to add an extra protection to prevent cross contamination.
Do you have 10 ul long version tips?
Yes, check out our filter tips 10 ul long .
What is the 10ul filter tips price?
For 10ul pipette tips costs, please connect with our sales representative to get quotation today.
---
Appendix: Tips Compatibility Chart for Pipettes
| | |
| --- | --- |
| Eppendorf: | Research plus 0.5-10 µL(M) |
| Gilson: | Pipetman P2, P10 |
| Watson: | NEXTY/NEXTY-S 0.2-2 µL/1-10 µL (M) / 10µL (F) |
| Finnpipette: | Digital 0.2-2.0 µL / 0.5-10 µL (M) |
| Biohit: | Proline 0.1-2.5 µL / 0.5-10 µL (M) |
| Nichiryo: | Nichipet EX 0.1-2 µL / 0.5-10 µL (M) |
| A&D: | A&D MPA-10 / MPA-20 |
Also great alternative product for TipOne s1120 8810, BrandTech 732724 BRAND® Bio-Cert™ Pipette Filter Tips.
Category
Business & Industrial > Science & Laboratory > Laboratory Supplies > Liquid Handling > Pipettes Tips > Filter Tips
Other featured products: pcr tubes